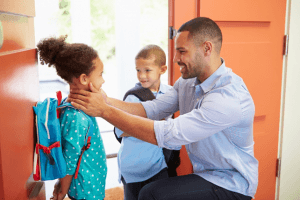 Even though it seems like summer has just begun, a new school year is just around the corner. And while your kids may be cramming to finish those summer reading assignments, if you are a parent of child with diabetes you should also be doing your homework to make sure a proper in-school diabetes care plan is set in place. Creating and updating a Diabetes Health Care Plan for School with your child's teachers, school nurse, and medical team is critical to ensuring your student has access to everything they need to keep their blood glucose levels stable and their minds learning.
To start off on a great diabetes health care plan, take the team approach. Collaborate with your kid's doctors, school nurse, teachers, and support staff. And don't forget to include the student in creating your plan; it is important for you child to feel involved as much as possible in their diabetes care (on an age appropriate level).  The plan that you develop should outline the various responsibilities of the school, parent, and student and what actions need to be taken for regular monitoring, hypos, and hyper symptoms and their treatments. Also keep in mind your child's reactions to gym class, field trips, and bus rides to school.
A School Diabetes Health Care Plan should include:
Emergency Contact Information – parents, doctors, trained diabetes professionals
Instructions for blood glucose monitoring including how often to test and other indications for performing a blood glucose measure
Instructions for administering insulin with details about injection times and doses in relation to blood glucose readings and how to store the insulin.
Indications and procedures of testing for ketones and a plan of action for abnormal ketone levels
Symptoms and treatment for hypos
Symptoms and treatment for hypers
Meal and snack plan including which foods, how much, and when
If you need more assistance to create your plan, the National Diabetes Education Program has some great templates.
As a parent, the Dario Personalized Smart Meter, gives you the ability to review and monitor your child's blood glucose levels from afar. Dario's hypo alert function will text you if you child's blood sugars have gone too low so that you can reach out to your child and the school to make sure that appropriate steps have been taken to keep your child safe and healthy. According to the American Diabetes Association, several studies have illustrated a real lack of understanding of diabetes by a large percentage of school employees. Many parents don't feel secure in a teacher's ability to help their child manage their diabetes. In many locations, it is the legal responsibility of the school to train their staff on helping their students with diabetes. Myths like people with diabetes should never eat sugar are pervasive and could be a potentially dangerous notion by an adult who is caring for your child if they are having a hypo. Diabetes education and information is key!
Speak to your Parent Teacher Association and your local diabetes advocacy organization about holding a diabetes education day at school for students, parents, and teachers. The more people that know the facts about diabetes, the safer and more secure your student will be. Plus helping to organize a diabetes education day at school can be empowering for your child living with diabetes.
Dario will be you and your child's favorite back-to-school essential.